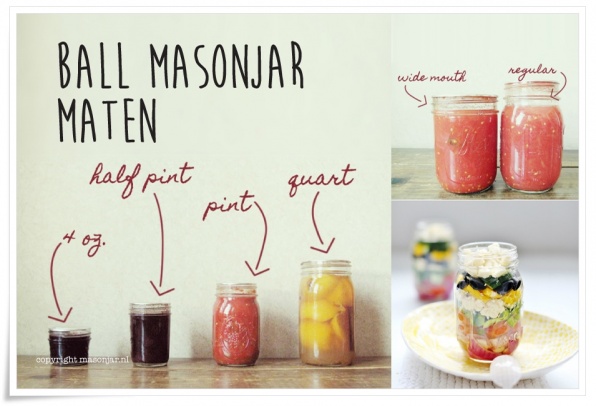 They are propably the most popular glass jar ever. INamed after John Landis Mason, who invented the jars and patented them in 1858. It started out as a glass jar used in home canning and to preserve food.
Ball mason jars come in different sizes, with two sizes of the mouth opening. They have a screw thread, on which a metal ring with lid is screwed. Inside the metal ring, which is called a band, you will find a rubber ring.
Througout the years, the Mason Jars have often been imitated, we sell the originals ! Use them for preserve food or as smoothie jar, bake in them, make frozen desserts in a jar, or try out one of the many DIY-projects for home, garden and as gifts.
At Partyzz! the Ball Mason jars are sold seperately, as well as the basic lids and colored fancy lids. Get inspired by all great ideas for the "Ball Mason", by checking out our Pinterest pages.
-17%

Ball elite blue 8oz

There not only cute, but practical as well. Collect your original Ball Mason 8oz jars.Be a trend setter with these jars at your party table. Use them to serve utensils, or napkins..or set up a nice bouqet in your jar. Or why not…

€ 4,75 € 3,95

Mason jar 24oz wide mouth

Pint and a Half wide mouth jar is ideal for example a salad to go or a stock jar . Or for the take away smoothie !

The cover consists of two parts, a " Band" and a "lid" the jar is made of glass and the cap of metal. Content :…

€ 4,50

-23%

Mason jar drinking jar

The real Mason jar drinking jar. A tough cup useable with the Regular mouth lid's .

The plain drinking jars are ideal for parties . By example for presenting your tastiest cocktail or how about the jar as a tea glass . Also nice…

€ 3,25 € 2,50
Languages
Why Partyzz! ?
Lovely products at great prices
Shipping within 2-3 days
Shipping within NL € 6,95
Mailbox delivery € 4,95
Returns within 14 days